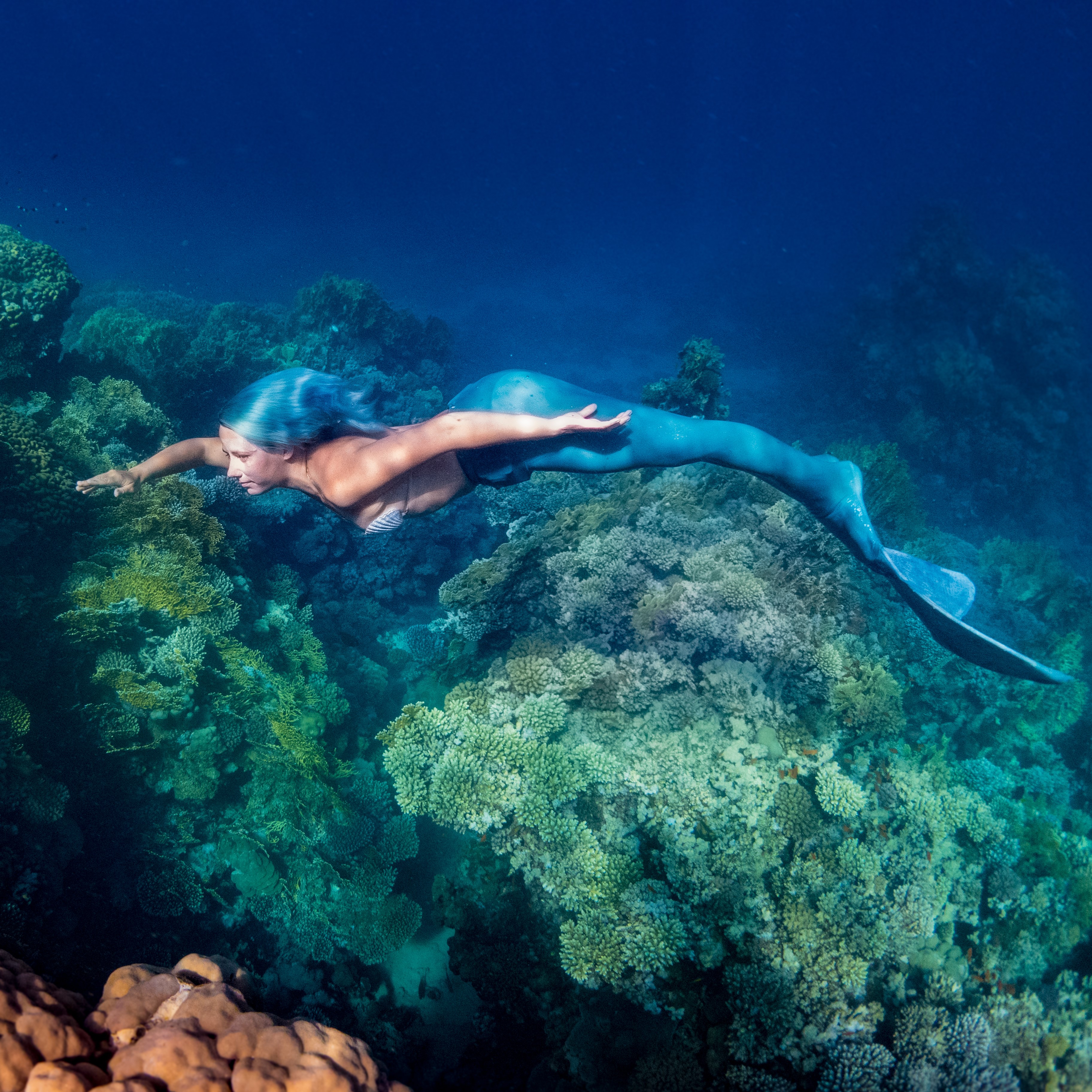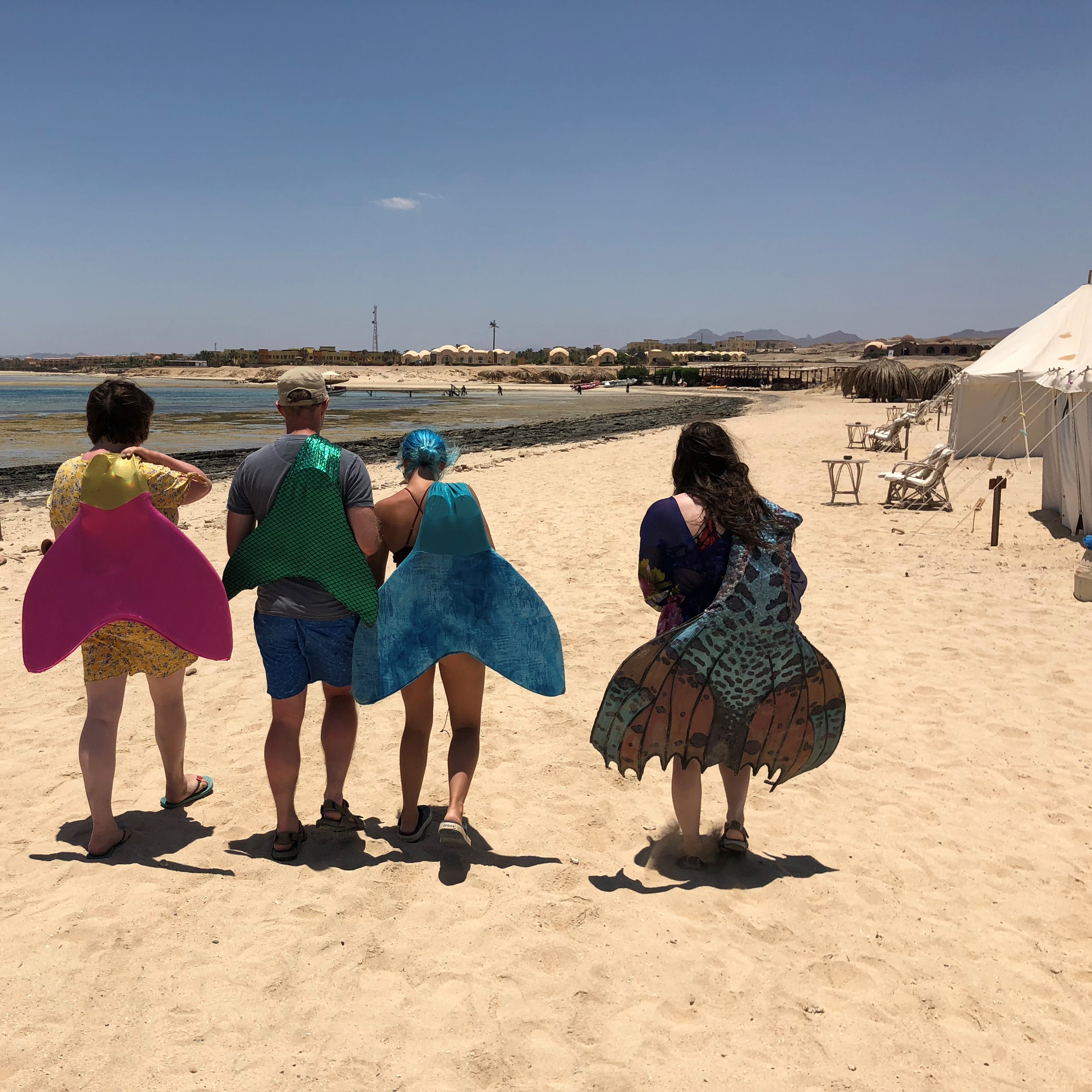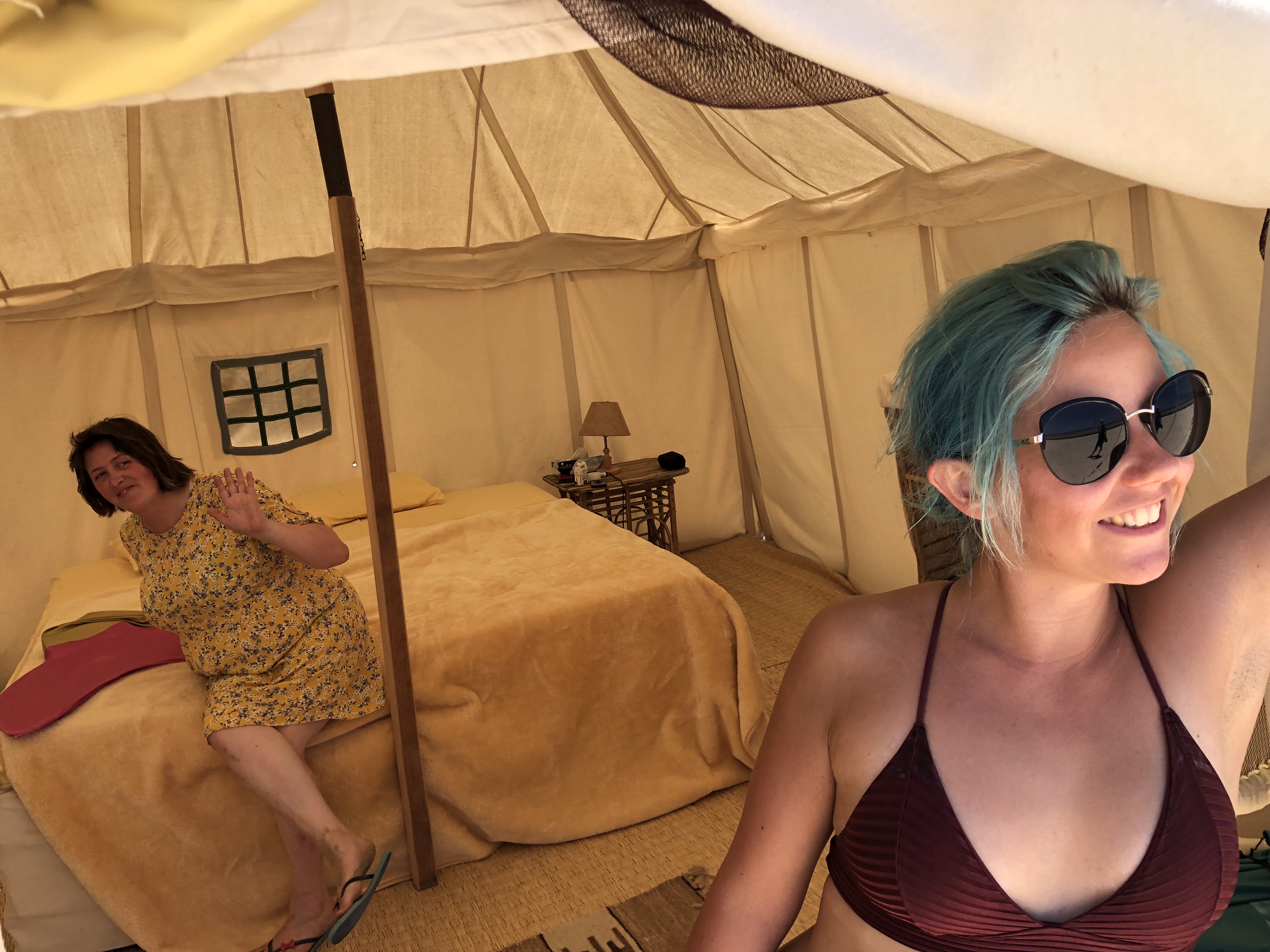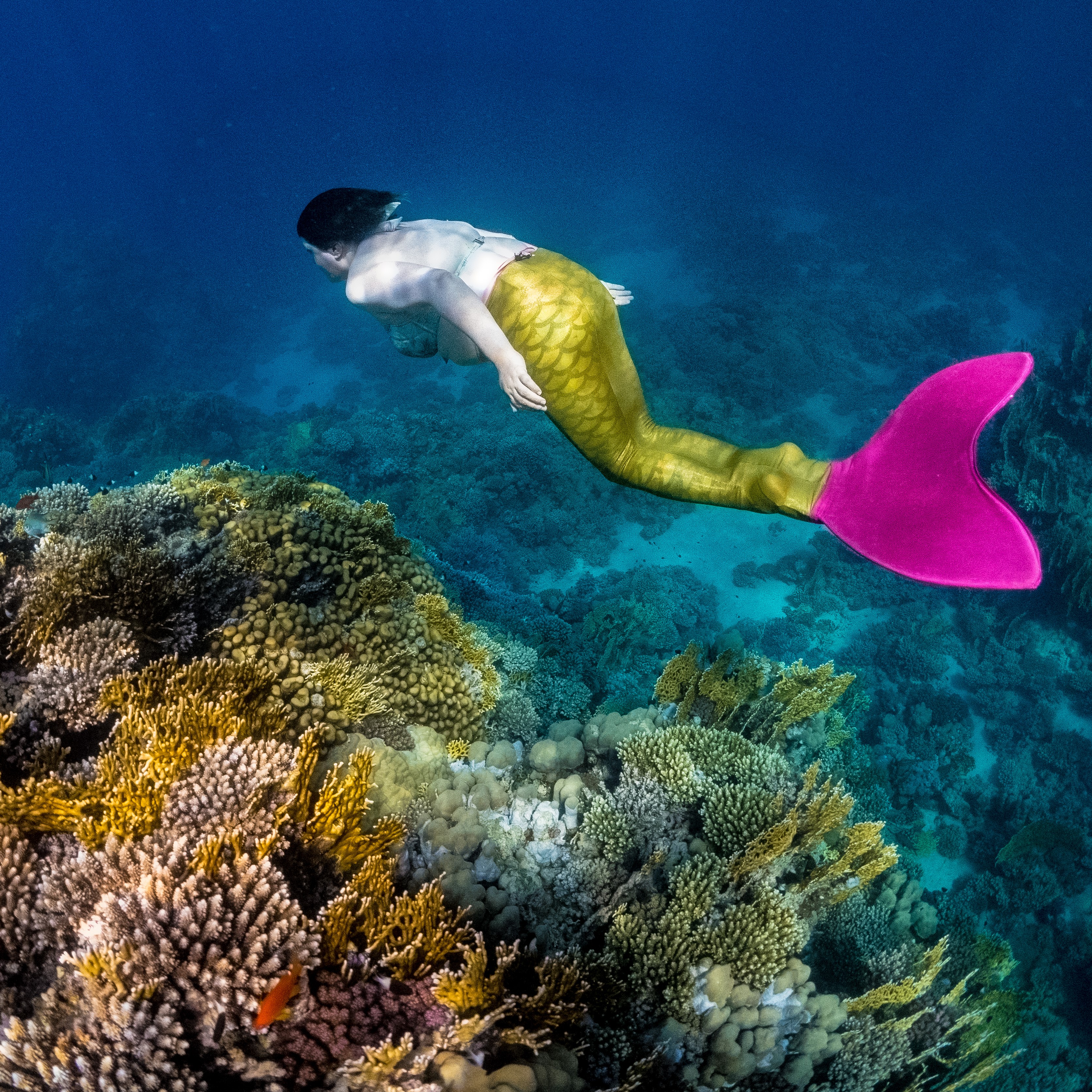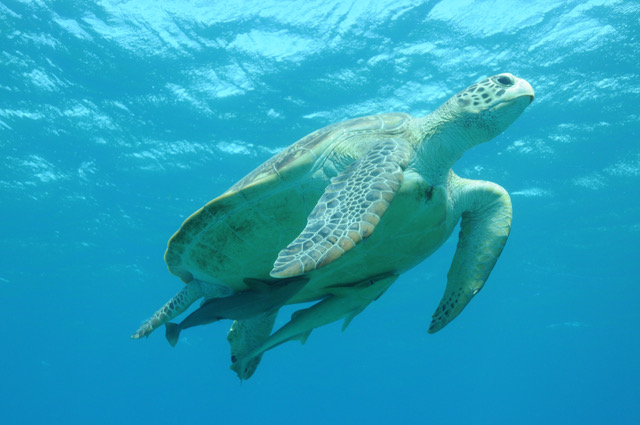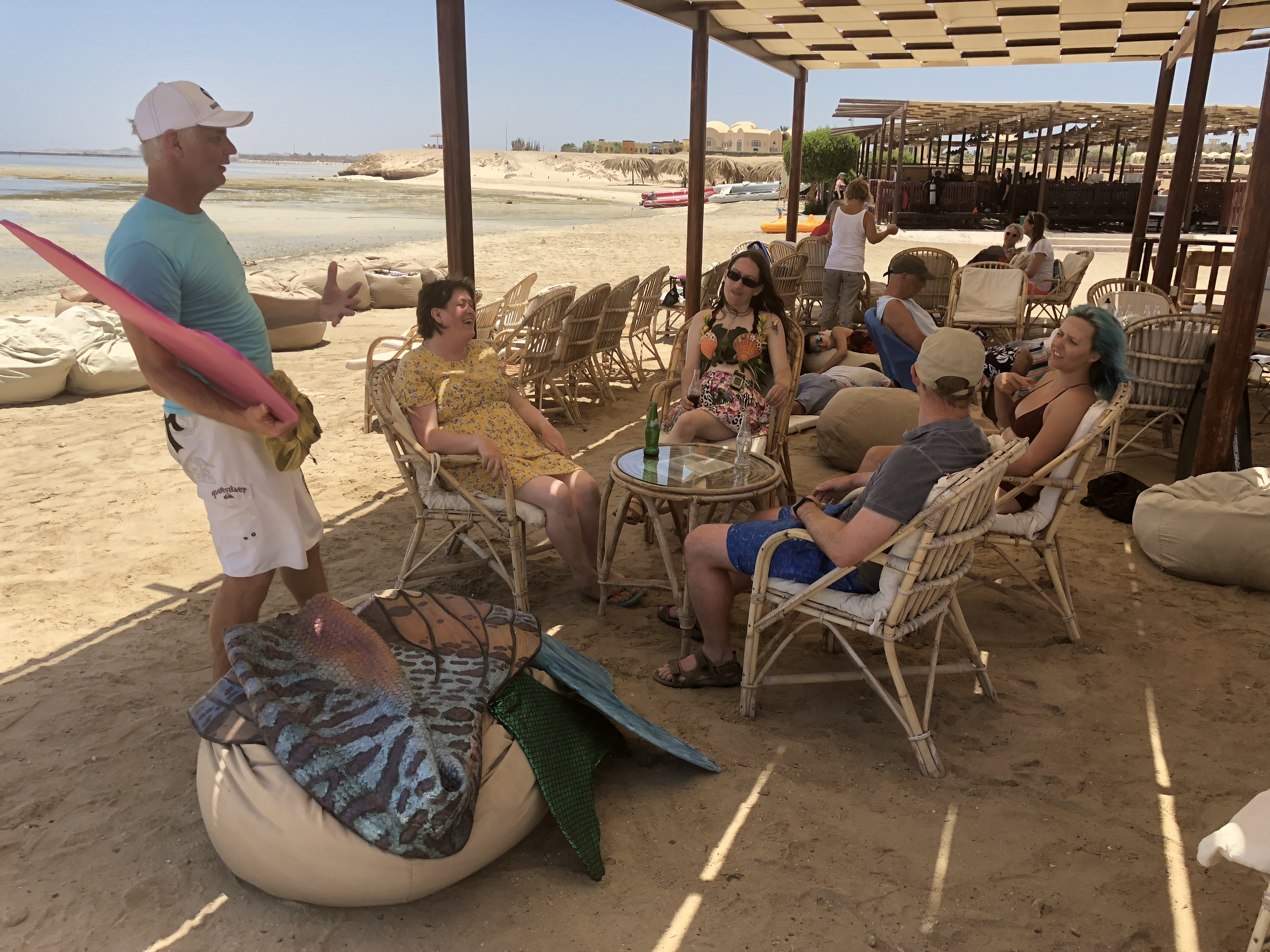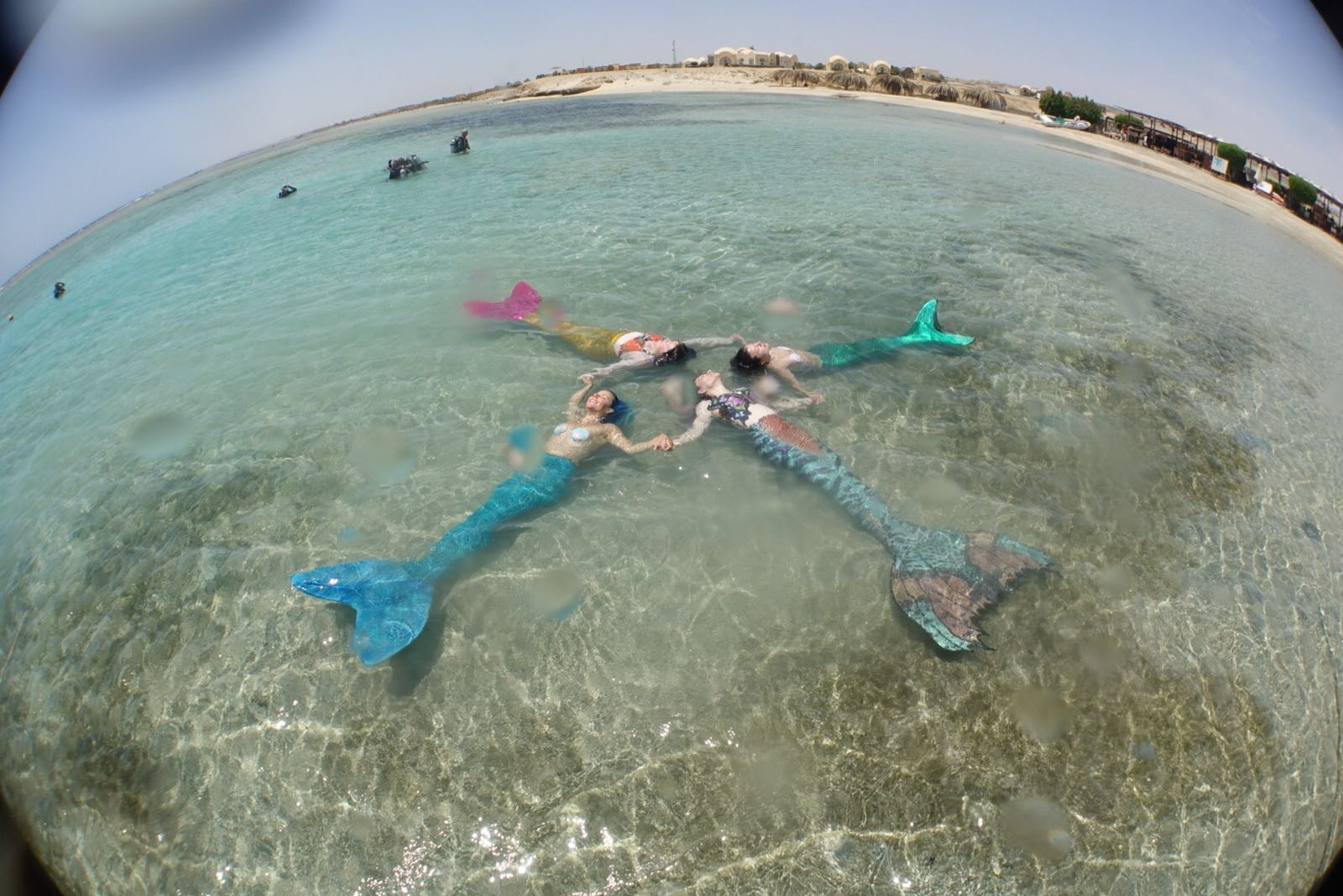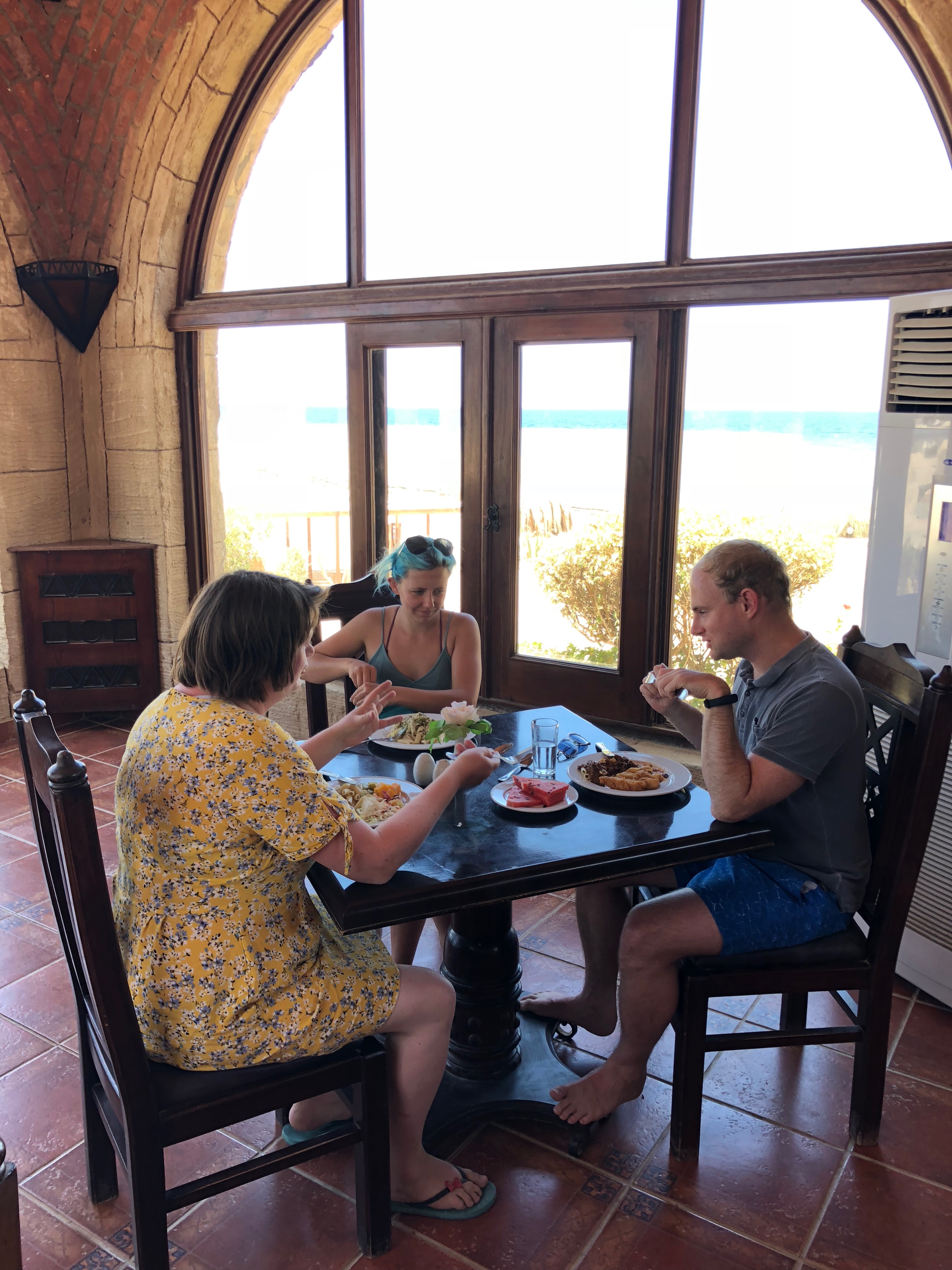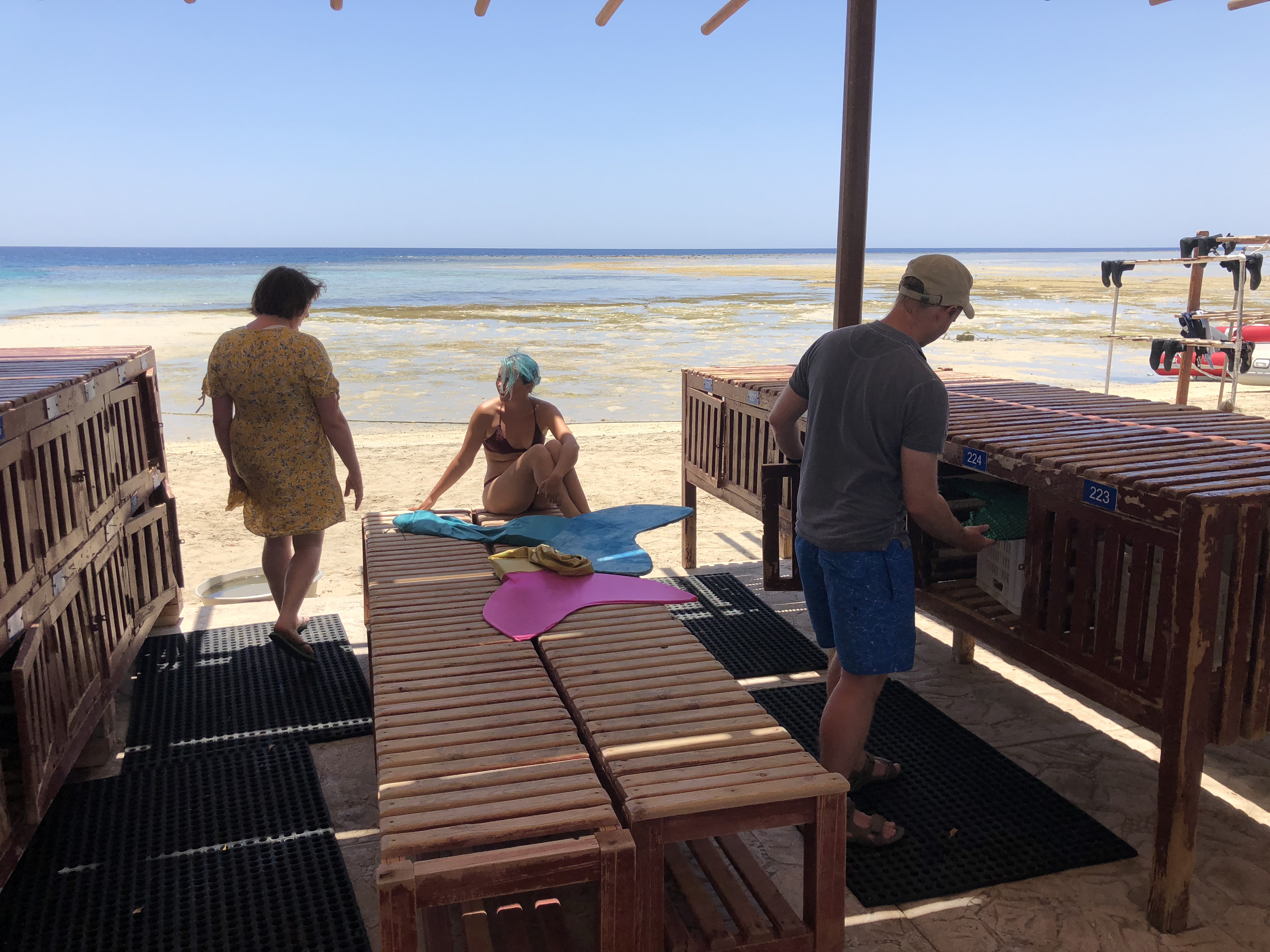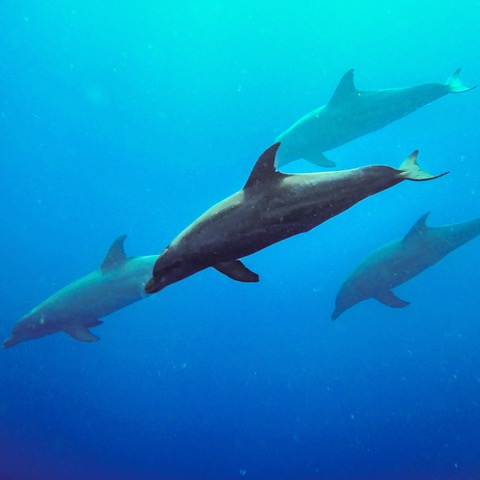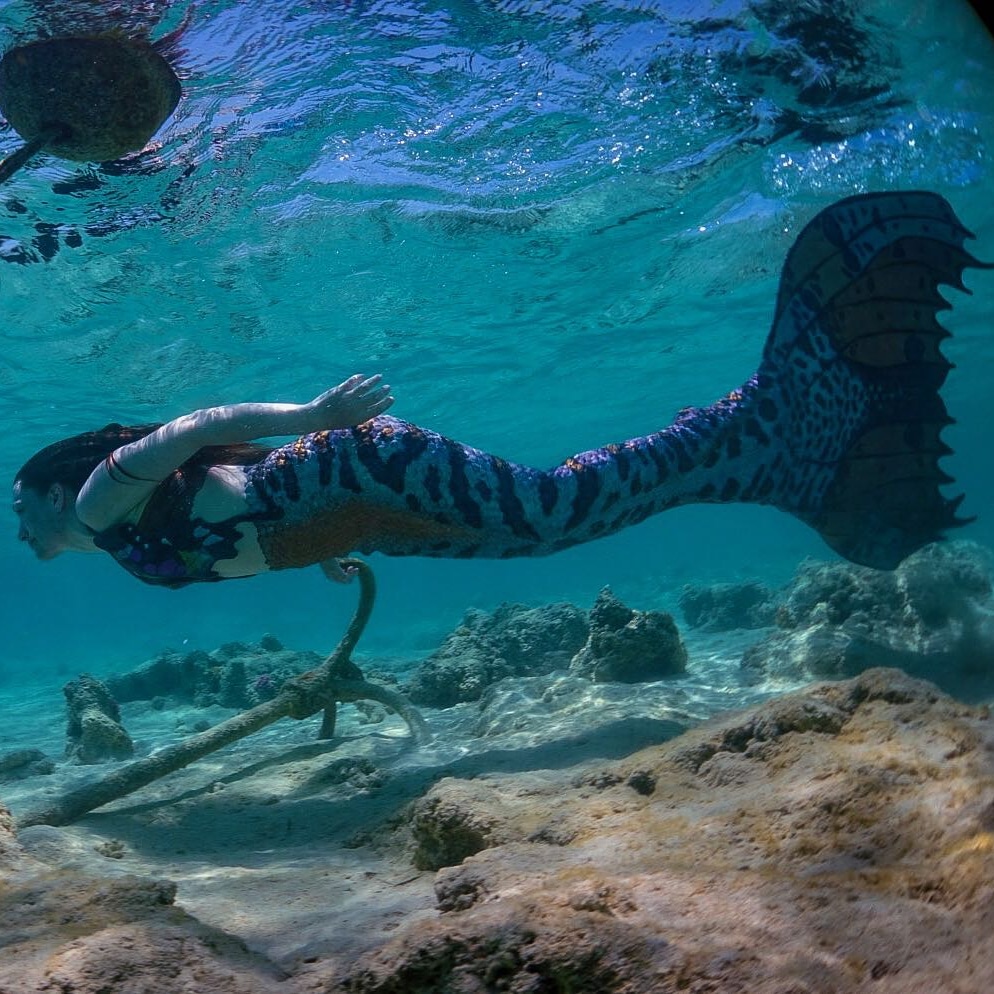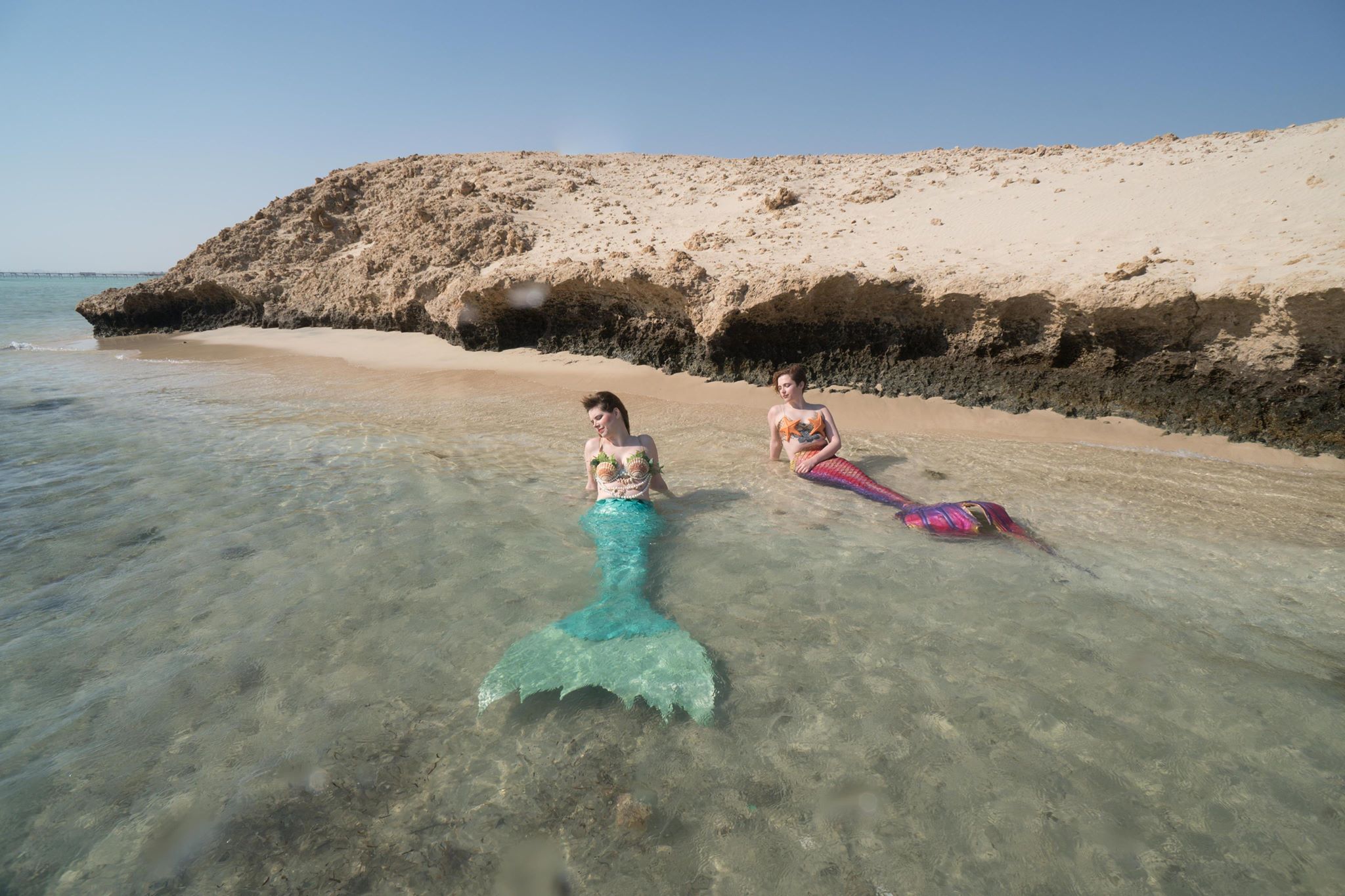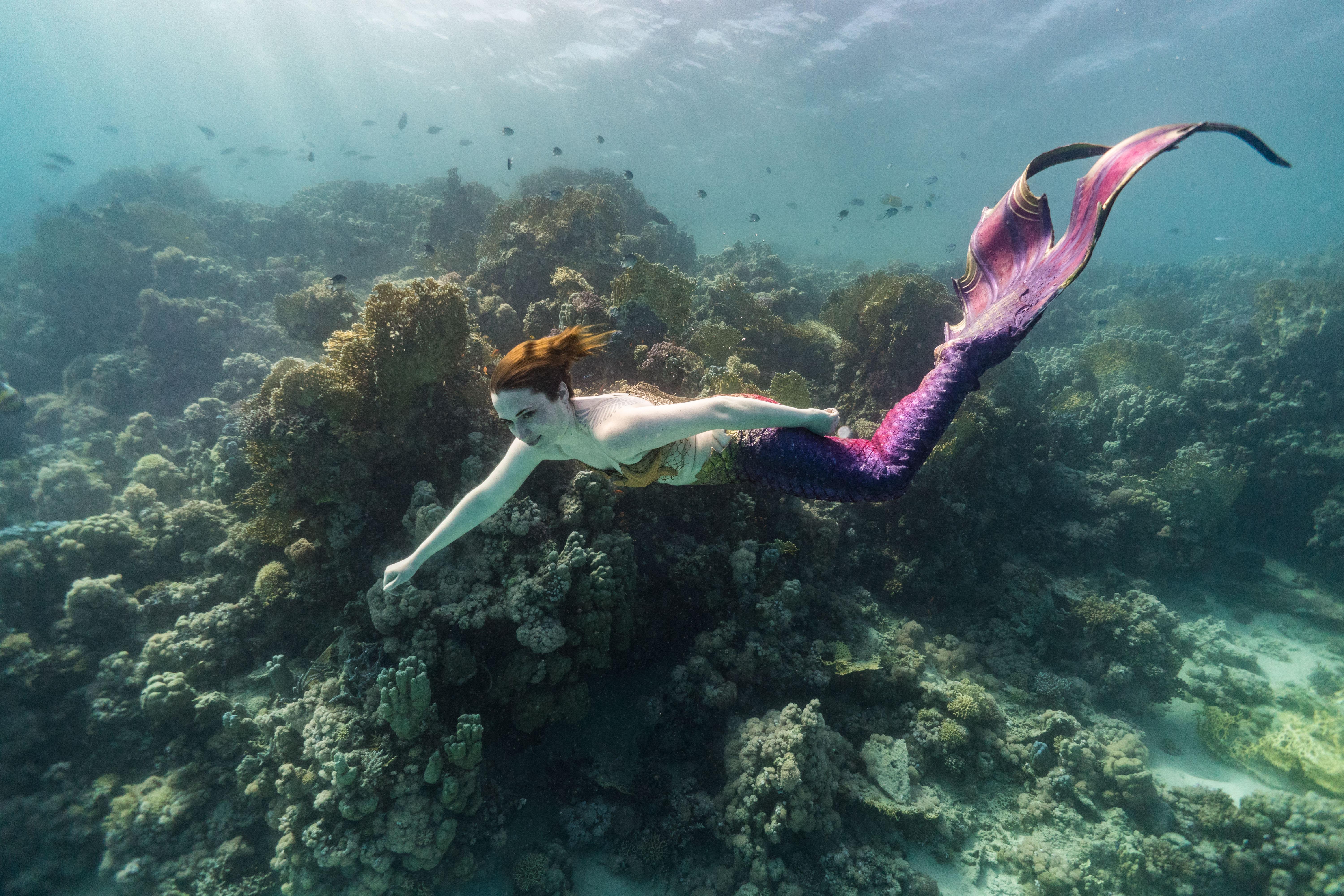 Mer amongst beautiful corals
Our partners Oona's Divers offer this amazing all inclusive location holiday in the Red Sea, at Marsa Shagra Eco Village with mermazing tuition from NoTanx coaches.
Staying in Royal Tents (with fan, fridge and power points) on the beach next to the reef, you'll wake up every day and step out of your tent to see hermit crabs bumbling along the shore line.
Do a little morning yoga on the beach before heading to your buffet breakfast in the air conditioned restaurant. Choose from pastries, cereal, sausage, toast, or have the friendly chef cook your eggs to your liking.
The house reef is right on your doorstep, next to the shady cafe, where most soft drinks, tea, coffee (and cake at tea time!) is free.
There are lockers, showers and places to change and rinse your kit out under the Dive Shade.
Then it's a quick wade through the shallows to the jetty where you can either enter the shallows of the reef through a channel between the corals or take a RIB to deeper parts of the reef with your group. 
Because of the flexible set up at Marsa Shagra Eco Village (including trips to different locations that can be arranged through the hotel for a small additional fee) we'll arrange a programme of 1 or 2 dives (some with, some without your mermaid tail), activities or photoshoots a day. These can be tailored to match the needs and abilities of the group.
Starting with basic safety and orienteering sessions and working with equalisation and depth, you'll build towards feeling comfortable diving on the reef without a mask, so you can get some amazing photos in your tail in this stunning location.
Experienced mers may get to explore deeper waters depending on ability.
You could see wildlife such as turtles, dolphins, puffer fish, moray eels, sharks, rays and cuttlefish, as well as get to know the house reef which is teeming with tropical fish of all kinds. 
In between dives and activities, return to the restaurant for buffet lunch and dinner, or chill out on a lounger under the leafy beach shades.
At night you'll see an ocean of stars spread out above you, and the surroundings are so beautiful you'll enjoy the short walk from your tent to the toilets and showers (which are immaculate) to cool off before you fall into bed exhausted but happy! 
Flights from London, Gatwick (UK) are included in the price, as are transfers from Marsa Alaam airport to the hotel.
Meals from the restaurant are all included, as are most soft drinks, tea and instant coffee from the cafe. You can buy snacks and beers from the cafe if needed, which can all be added to your room bill and there is a Bedouin Beach bar where you can buy beers using Euros. 
Our next scheduled trips to Marsa are:
April 2019 - FULL
June 2019 - FULL
June 2020 - NOW BOOKING. Please get in touch now to secure your place on this trip
Total price: £1600 plus booking/processing fees. Can be paid as two installments: Deposit £300 and Final Balance £1300 (due 12 weeks before date of trip). Price is based on sharing a twin room in a Royal Tent. 
When you pay your deposit, you are committing to pay the final balance of the holiday by the deadline 

If you would like to set up a payment plan of smaller installments via Paypal, please get in touch and we can arrange that. We cannot offer refunds on flights and hotel bookings.
There are just 10 places available.